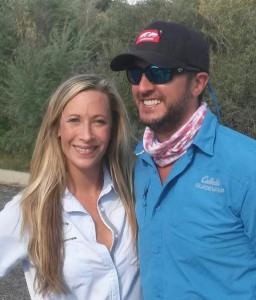 Trout Creek Flies got a request to book a guided trip Wednesday afternoon just before Luke Bryan's concert in Salt Lake City during his 2015 Kick the Dust Up Tour. Luke also had a show scheduled for Thursday night at Usana Amphitheater and wanted to book a guided trip down Utah's Green River just below Flaming Gorge Dam before his second night's appearance. He flew in with a friend on a small plane and landed in Dutch John's airport, where his guide picked him up for a day of fly fishing. Guide John M. Sparger and Trout Creek Flies did a great job entertaining Luke, who landed some very nice big fish on the Green. He was greeted at the ramp at Little Hole with some SWAG, a six pack of local Vernal Brewing Co.'s Little Hole Lager (he cracked one open right away), and a very big thank you for his selection with TCF. He was open and friendly snapping pics and signing onsies for a few very lucky locals.
See some pics of Luke on the Green River UT and his big Brown's here: Trout Creek Flies Luke Bryan Fly Fishing Trip on Facebook. Luke also has a video of him fly fishing near Casper, WY the next day after his Green River guided trip and his two shows in SLC- watch the Youtube video here:
Luke Bryan Wyoming Fly FIshing Adventure. We love you Luke- hunting, fishing, loving everyday!