REVIEWS:
Read below to see what Nick's clients have to say about their day on the river, also read about him here on Trip Advisor, and here.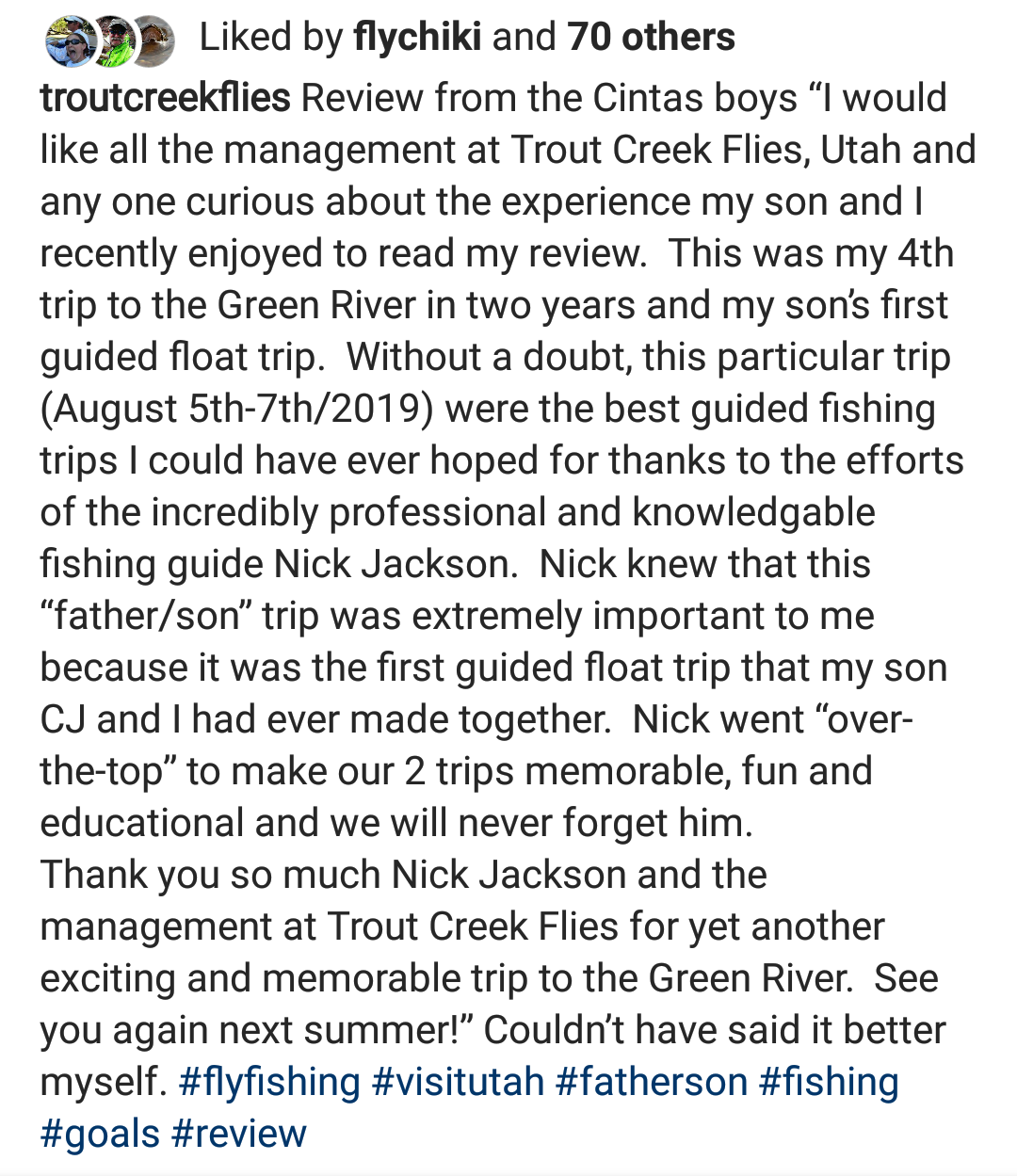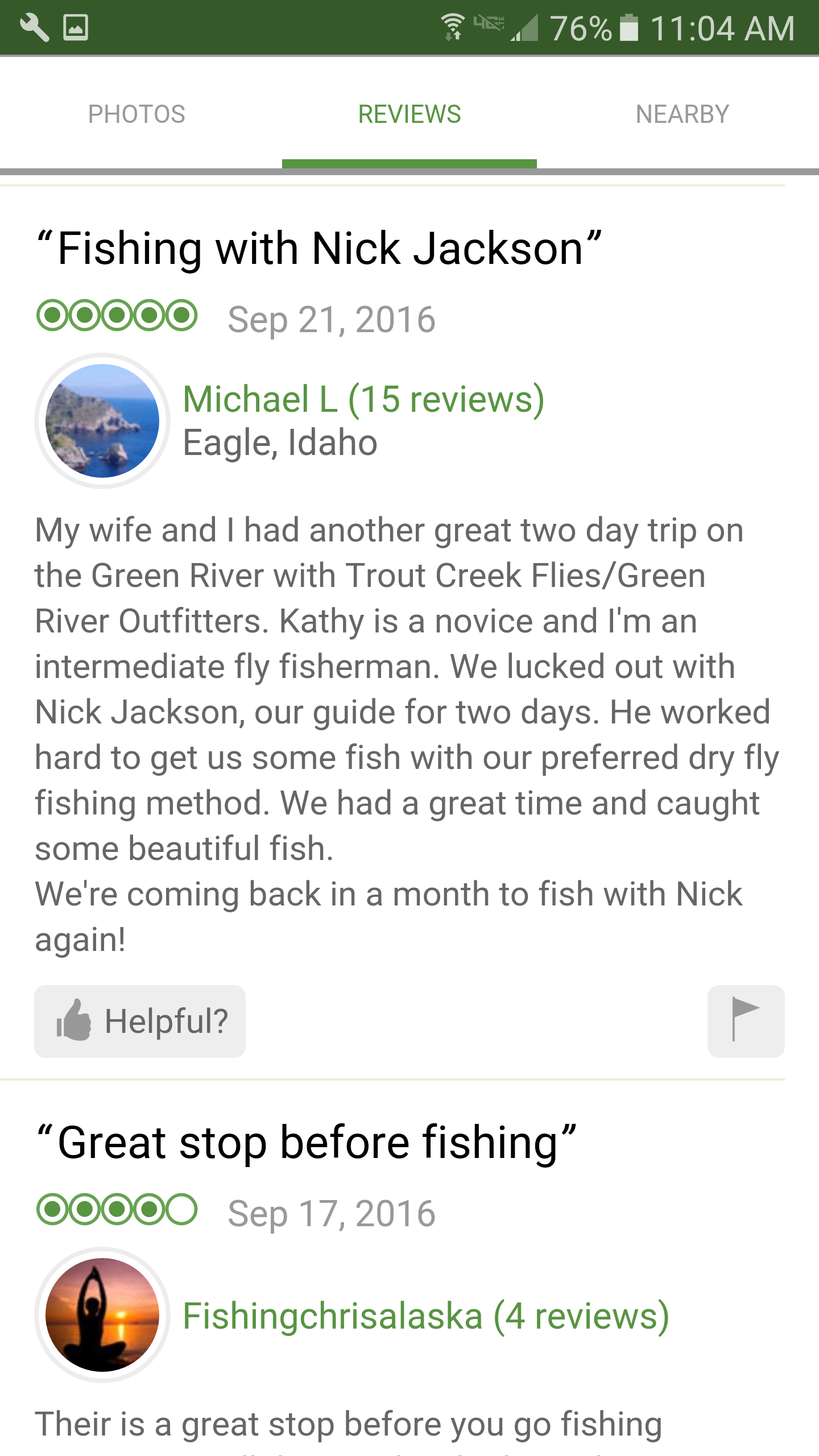 As my friend Brian and I stood next to Nick's boat in the parking lot of the fly shop I said to Nick we are going to have fun today I hope you do as well. Fun we had. Nick's expertise on the Green River is exceptional. But doesn't match his desire to put you on fish. We changed flies frequently to match each section of the river and the fishes desires. He was the consummate coach helping us identify the spots to put our flies. Nick was also patient as I  miss managed playing a large brown and it broke off. Like every fish story the big one got away but because of Nick many big ones did not get away.
It is now the third day since my return home and I find myself reflecting throughout the day recalling all the great moments of the two day trip. I will bring my family and friends to fish with Nick Jackson again next year.  -John April 2015
Fabulous day, Nick was an amazing guide. He knows the Green very well and directed me where to place my flies with excellent results. Caught at least 30 fish today. -Jack Taylor 2014
Nick really puts you on the fish. He knows the river extremely well and knows what the fish are eating. If you don't catch fish with Nick then it is your own fault.- Dr. Randy D. White 2014
Awesome day!! 20″ brown right off the bat. Lots of browns and bows all day. Nick was the BEST!! Courteous, professional, knowledgeable, and very educational. Thank you Nick for one of the best days fly fishing ever. -Ross & Diane Whetton June 21, 2014
First time with Nick, great day. Bypass gates were open water running 8600 CFS. I have never fished during high water before. The fishing was still good and some people were dry fly fishing. Got some real nice size fish, great looking brown and caught the biggest rainbow.  no reason to ever cancel a trip with a good guide. This type of fishing was new like a Texas rig, great learning -June 10, 2014
Nick was great and we had a great time! We caught a ton of fish. Saw lots of animals and had a fun time coming down the river!
-Guy and Sandra Curtis -May 17, 2014
PS. This is our second year with Nick as our guide.  🙂
My husband and I went on a guided river trip with Nick for our 10 year anniversary. I had never been fly fishing before. Nick took all the time I needed to walk me through how to do it. He was very patient with me- even when I hooked him. It tuned out to be an amazing trip, we caught so many fish through the day- Rainbows and Browns 15-20 in. length. He set my husband up on a dry fly and if you have never seen a fish come up and get one, it is way cool! Nick knows what he is doing all the way! We are for sure coming back for more trips with Nick. – Jeremy & Nikki -May 22, 2014
Hi Gene [dear friend of Nick's and fellow fishing guide],
Just want to thank you for lining us up with Nick Jackson.  We had a great day with this young man; you pick your proteges wisely……and the cheeseburgers were well received, as usual.   Tagged some nice fish with Nick at the oars.  And while wade fishing on my own, stuck a few with your fly (midge emerger); that's it in this brown's lip.
Best,
Fred -April 2014
PS
Also, his girl friend, Julie Ann is a lovely young lady as well!
We decide to eat at the Flaming Gorge Restaurant as Nick recommended. As we were waiting for our food, another couple came in and was seated at the table next to ours.
After a few minutes of looking at us the man leaned over to us and asked who our guide was.  We replied with Nick's name.  He said every time we passed him or he passed us Guy was reeling in a fish.  Nick's knowledge of the river and fishing skills not only impressed us but others on the river as well.
Continue the good work!!!
Thanks
Guy and Sandra -May 25, 2013
It was great to see Nick last year. When we fished with him at Campo Chileno four years ago Nick was as nice as he could be, but it was obvious that he lacked confidence and needed some experience in guiding. When we saw him on the Green he had grown so much it was incredible. He was still the nice young man that we had met earlier, but he had matured in his confidence, guiding skills and his overall approach to life in general. Lois and I were so proud of him that you would have thought that he was one of our own children. Fred had told us earlier that he had found a great young man to work with and Fred was definitely right.  -Dwight -July 5, 2013
We lucked into having one of the best fishing guides I have ever had. Nick, at the tender age of 24 was friendly, knowledgeable and got us into the fish when all the other guides were getting shut out. Nick started out by asking us what we wanted to accomplish on our day on the river. Of course, we wanted to catch fish but we also wanted to learn some things about fly fishing, especially nymphing techniques. Well, boy did we do both. He rigged up Dick first and before he had finished rigging me up, Dick had a fish on. And that was the way it was all day. Fish after fish, . Twenty fish each before lunch and then we sort of lost track after that. The afternoon saw us landing much bigger fish and more Brown Trout. We lost a few but we were fishing 5X tippet and a size 20 fly. The weather could not have been better. Cool in the morning, requiring us to wear fleece but by noon it was down to shirts and sunscreen. Tell me why eating turkey sandwiches on the river makes for the best tasting food ever! Well, the Heath bar cookies were pretty outstanding, I must say.  I have fished the Green many times but this outing is at the top of the list. And that's my story and I'm sticking with it. -Jim -Apr. 2013